Night Swim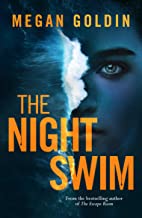 Why a Booktrail?
2000s: A small town, a huge tragedy
What you need to know before your trail
Ever since her true-crime podcast became an overnight sensation and set an innocent man free, Rachel Krall has become a household name – and the last hope for people seeking justice. But she's used to being recognised for her voice, not her face. Which makes it all the more unsettling when she finds a note on her car windshield, addressed to her, begging for help.
The new season of Rachel's podcast has brought her to a small town being torn apart by a devastating rape trial. A local golden boy, a swimmer destined for Olympic greatness, has been accused of raping the beloved granddaughter of the police chief. Under pressure to make Season 3 a success, Rachel throws herself into her investigation – but the mysterious letters keep coming. Someone is following her, and she won't stop until Rachel finds out what happened to her sister twenty-five years ago. Officially, Jenny Stills tragically drowned, but the letters insist she was murdered – and when Rachel starts asking questions, nobody in town wants to answer. The past and present start to collide as Rachel uncovers startling connections between the two cases – and a revelation that will change the course of the trial and the lives of everyone involved.
Travel Guide
The fictional setting of Neapolis
The fictional setting of this novel is 'inspired' by the biblical setting of Shechem. This was where the story of the rape of Dinah takes place and the author in her note explains why she chose to use a fictional settling for this novel, yet have the biblical setting behind it.
This is a novel about a rape trial and the two students involved. The latter half of the novel is set primarily in a court house.
BookTrail Boarding Pass: The Night Swim
Destination/location: America/USA  Author/guide: Megan Goldin Departure Time: 2000s
Back to Results