Murder on Mustique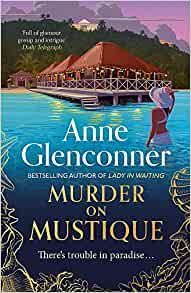 Why a Booktrail?
2000s: A storm. A disappearance. A race against time . . .
What you need to know before your trail
Mustique is in a state of breathless calm as tropical storm Cristobal edges towards it across the Atlantic. Most villa owners have escaped the island but a few young socialites remain, unwilling to let summer's partying end. American heiress Amanda Fortini is one such thrill-seeker – until she heads out for a morning swim and doesn't return.
Detective Sergeant Solomon Nile is the island's only fully trained police officer. He quickly realises he needs to contact Lord and Lady Blake, who bought the island decades ago.
Jasper is in St Lucia designing a new village of luxury villas but Lady Veronica catches a plane immediately. Her beloved god-daughter, Lily, is on the island and this disappearance has alarming echoes of what happened to Lily's mother many years ago.
When Amanda's body is found, a murder investigation begins. Nile knows the killer must be an islander because flights and ferry crossings have stopped due to the storm warning, but the local community isn't co-operating. And then the storm hits, and someone else disappears .
Locations
Reset
Caribbean - West Indies - Grenadines - Mustique
Travel Guide
Murder on Mustique BookTrail style
Mustique is a small private island in the Caribbean. What a place to go! What a place to set a novel and what a place to solve a murder!
The reader is immersed immediately into a sun-drenched island of wealth and luxury, palm trees and sunshine. All of the houses  are posh and luxurious.
There are interesting real life links in this novel. Lady Veronica (Vee) is the former lady-in-waiting to Princess Margaret and the author herself held this very role.
She describes herself wandering around the island like a 'tropical Miss Marple'
There is plenty of descriptions of the lush landscape and the sea life as the victim was working on a project to save Mustique's coral reef. The Reef Revival Scheme could well have something to do with this whole case…
There is a sense of isolation and urgency especially when a storm arrives……
Booktrail Boarding Pass: Murder on Mustique
Destination: Mustique   Author/Guide: Anne Glenconner  Departure Time: 2000s
Back to Results