In the Blink of an Eye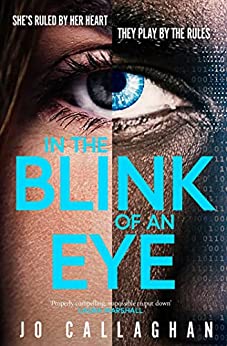 Why a Booktrail?
2022: What if AI could be used to help solve crime?
What you need to know before your trail
DCS Kat Frank knows all about loss. A widowed single mother, Kat is a cop who trusts her instincts. Picked to lead a pilot programme that has her paired with AIDE (Artificially Intelligent Detective Entity) Lock, Kat's instincts come up against Lock's logic. But when the two missing person's cold cases they are reviewing suddenly become active, Lock is the only one who can help Kat when the case gets personal.
AI versus human experience.
Logic versus instinct.
With lives on the line can the pair work together before someone else becomes another statistic?
Travel Guide
Birmingham and Warwickshire on the AI trail
To be honest, locations in the geographical sense are just a backdrop to this novel but it's the AI landscape that is the most interesting.
AIDE Lock
The technology in the novel is part of a pilot scheme to test whether the police can use an advanced AI detective – AIDE Lock – to help solve crime. Kate believes that humans can bring much more than machines to crime solving but she is takes on the project.
AI sidekick
The AI detective appears as a hologram and can talk and create conflict with Kat This is a  very unique good cop/bad cop setup – where their two natures can often cause conflict. This is a very ununsual and new area of policing and I have never heard of an AI detective before. Very fresh and there are good moments of banter and conflict. When they go to the house of a missing youngster, how a human and an AI detective deals with the possibly grieving mother is raw yet fascinating.
Booktrailer Review
What a fresh and exciting read! This opens up the door for a whole new style of police procedural!
Booktrail Boarding Pass:  In the Blink of an Eye
Destination: Birmingham, Warwickshire  Author/Guide: Jo Callaghan Departure Time: 2022
Back to Results