I Mona Lisa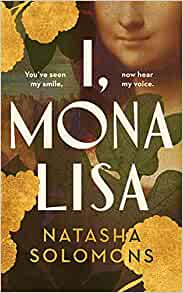 Why a Booktrail?
The story behind the woman who would become Mona Lisa
What you need to know before your trail
Listen to my history. My adventures are worth hearing. I have lived many lifetimes and been loved by emperors, kings and thieves. I have survived kidnap and assault. Revolution and two world wars. But this is also a love story. And the story of what we will do for those we love.
In Leonardo da Vinci's studio, bursting with genius imagination, towering commissions and needling patrons, as well as discontented muses, friends and rivals, sits the painting of the Mona Lisa. For five hundred tumultuous years, amid a whirlwind of power, money, intrigue, the portrait of Lisa del Giocondo is sought after and stolen. Over the centuries, few could hear her voice, but now she is ready to tell her own story, in her own words – a tale of rivalry, murder and heartbreak. Weaving through the years, she takes us from the dazzling world of Florentine studios to the French courts at Fontainebleau and Versailles, and into the Twentieth Century.
Travel Guide
The story behind the most iconic painting in the world
Mona Lisa – perhaps the most famous painting in the world, but who was the woman behind the painting?
Florence, Italy
The two locations in the novel are Florence, where the story is mainly set and where the Mona Lisa is from.
Paris
The setting of riches and wealth in the novel. This is where the most famous painting in the world is now displayed.
BookTrail Boarding Pass: I, Mona Lisa
Destination/Location: Paris, Florence  Author: Natasha Solomons   Departure: 1500s
Back to Results