Godmersham Park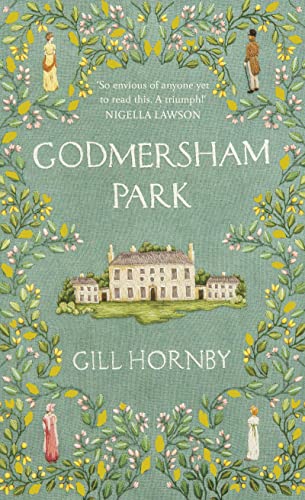 Why a Booktrail?
1804: Anne Sharpe gets a job as a governess and meets a cetain Jane Austen….
What you need to know before your trail
January 1804: Anne Sharpe arrives at Godmersham Park in Kent to take up the position of governess.
At thirty-one years old, she has no previous experience of either teaching or fine country houses. But her mother has died and she desperately needs an independent income if she is to survive.
For her new charge, twelve-year-old Fanny Austen, Anne's arrival is all novelty and excitement.
But Anne is keenly aware that her new role is an awkward one: she is neither one of the servants nor one of the family, and to balance a position between the 'upstairs' and 'downstairs' members of the household is a diplomatic chess game. One wrong move may result in her instant dismissal.
She has just begun to settle into her position when dashing Henry Austen and his younger sister Jane come to stay.
Both take an immediate interest in the pretty, clever governess who quickly becomes drawn into the above stairs life of the Austen family.
Despite her best endeavours, Anne finds that she is beginning to fall in love. But has her survival at Godmersham Park just become a good deal more precarious?
Locations
Reset
England - Kent - Canterbury
Travel Guide
Godmarsham Park, Kent
The location is real and the story is closely inspired by the diaries found by one of the Austen family. So, you can rest assured that the atmosphere and story are very vividly drawn and closely mirrors the events of the past. This book really does immese you into the story from the very first page. Acttually before that as the gallery shows the end papers on the hard cover (don't miss looking inside the dust cover!) and the gorgeous spredges.
Godmersham Park is  a real and stunning house of the Palladian style in Kent. . It has associations with the writer Jane Austen, and is depicted on the new Bank of England £10 note issued in 2017. The Association of British Dispensing Opticians can now call this home. Making glasses for people to read fine Jane Austen books no doubt!
Jane Austen was a regular visitor between 1798 and 1813.[7] Mansfield Park is said to be based on Godmersham Park
Booktrailer Review
A story as lovely as the cover (and inside cover)
BookTrail Boarding Pass: Godmersham Park
Destination/Location: Kent  Author: Gill Hornby  Departure: 1804
Back to Results