Diamonds at the Lost and Found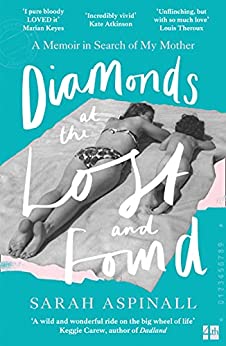 Why a Booktrail?
2000s looking back: A daughter and mother relationship examined.
What you need to know before your trail
Sarah Aspinall grew up in the glittering wake of her irrepressible mother Audrey. Born into poverty in 1930s Liverpool, Audrey had always known that she was destined for better things and was determined to shape that destiny for herself. From the fading seaside glamour of Southport, to New York and Hollywood, to post-war London and the stately homes of the English aristocracy, Audrey stylishly kicked down every door she encountered, on a ceaseless quest for excitement – and for love.
Once Sarah was born, she became Audrey's companion on her adventures, travelling the world, scraping together an education for herself from the books found in hotels or given to her by strangers, and living on Audrey's charm as they veered from luxury to poverty – an accessory to her mother's desperate search for 'the one'.
As Sarah grew older, she realised that theirs was a life hung about with mysteries. Why, for instance, had they spent ages living in a godforsaken motel in the Kill Devil Hills, North Carolina? Who was the charming Sabet Sabescue, and what was his hold over Audrey during several months in Cairo? And what on earth happened to the heirlooms that an ancient heiress, Miss Gillette, gave Sarah when they visited her in Palm Springs?
And why, when they returned to Southport was Audrey ostracised by the society she so longed to be part of?
Travel Guide
This is a road trip of emotions between a mother and her daughter. We start in Southport and travel around the world as the mother leads a life that is different to most people's. The endless quest for love and acceptance takes them on a journey in more ways than one to America, Australia, Hong Kong and Egypt to name but a few.
Audrey, the mother, was brought up in Liverpool and Southport. They head to America to stay with Audrey's Godmother. From there, they travel across the country and their story takes more twists than you can imagine.
When they  move to Asia, Audrey continues to look for the perfect partner. What a journey for the daughter, to go on these travels with her mum.
BookTrail Boarding Pass: Diamonds at the Lost and Found
Destination/location: Southport, worldwide  Author/guide:  Sarah Aspinall   Departure Time: 2000s
Back to Results