Black Water Sister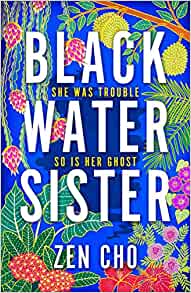 Why a Booktrail?
2000s: Her grandmother may be dead but she's not done with life…yet
What you need to know before your trail
As Jessamyn packs for Malaysia, it's not a good time to start hearing a bossy voice in her head. Broke, jobless and just graduated, she's abandoning America to return 'home'. But she last saw Malaysia as a toddler – and is completely unprepared for its ghosts, gods and her eccentric family's shenanigans.
Jess soon learns her 'voice' belongs to Ah Ma, her late grandmother. She worshipped the Black Water Sister, a local deity. And when a business magnate dared to offend her goddess, Ah Ma swore revenge. Now she's decided Jess will help, whether she wants to or not.
As Ah Ma blackmails Jess into compliance, Jess fights to retain control. But her irrepressible relative isn't going to let a little thing like death stop her, when she can simply borrow Jess's body to make mischief. As Jess is drawn ever deeper into a world of peril and family secrets, getting a job becomes the least of her worries.
Travel Guide
Discover the cultural and spiritual side of Penang
The atmosphere and culture of Malaysia is extremely well evoked. It's  all immersive and each page is very much a scene setting experience as if you are not just watching but attending a play.
Penang
This book reads as a homage to the culture and city of Penang. Jess is gay and Asian so there are the added interest of getting to know a character back in her homeland and rediscovering her past and her cultural ancestors.
Penang and its culture is evoked well and Georgetown is the bustling hub of this place. It's where the clinic is too and when someone asks if Georgetown is close to where someone lives, they are told that this is Penang and so everything is close by.
What helps to set the scene here is the mention of ghosts and spirits, the cultural beliefs of the Penang people and the characters in the story. There are a few museums of note on the map which help showcase the unique aspects of this so you can visit them and enhance the story.
BookTrail Boarding Pass: Black Water Sister
Destination/location: Penang  Author/guide: Zen Cho  Departure Time: 2000s
Back to Results