Allegation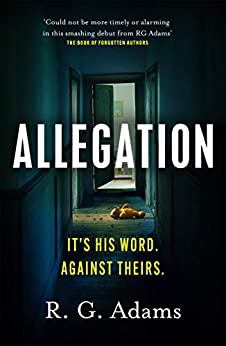 Why a Booktrail?
2000s: A scandal will shake a small community to its very foundations.
What you need to know before your trail
Two women have come forward to make historical sexual allegations against a pillar of the local community, Matthew Cooper.
The case lands on the desk of inexperienced Social Worker, Kit Goddard, who must remove Cooper from his home and family while the investigation is carried out. Although intrepid and intuitive, she is ill-prepared for such a high-profile case.
Kit finds herself navigating a local minefield of connections and class, reputations and rumour. Unsure whether her interference is a heroic intervention or a hurtful intrusion, she knows one thing: it will have an impact. The question is whether this impact will be to expose a lie, or destroy an innocent life…
Travel Guide
A tour of Wales seaside resorts
Sandbeach is a fictional Welsh seaside village for obvious reasons. The themes in the novel are historic abuse and abuse of minors so there are parts which are very hard to read. However given the recent media stories, this is an issue which is sadly current and relevant to anywhere in the country.
Sandbeach is said to be located in South Wales so the region is on the map with a few highlights of nice places to visit.
BookTrail Boarding Pass: Allegation
Destination/location: Wales Author/guide: R G Adams  Departure Time: 2000s
Back to Results