Under the Light of the Italian Moon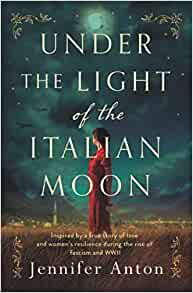 Why a Booktrail?
WWII: A promise keeps them apart until WWII threatens to destroy their love forever.
What you need to know before your trail
Nina Argenta doesn't want the traditional life of a rural Italian woman. The daughter of a strong-willed midwife, she is determined to define her own destiny. But when her brother emigrates to America, she promises her mother to never leave. When childhood friend Pietro Pante briefly returns to their mountain town, passion between them ignites while Mussolini forces political tensions to rise. Just as their romance deepens, Pietro must leave again for work in the coal mines of America. Nina is torn between joining him and her commitment to Italy and her mother. As Mussolini's fascists throw the country into chaos and Hitler's Nazis terrorise their town, each day becomes a struggle to survive greater atrocities. A future with Pietro seems impossible when they lose contact and Nina's dreams of a life together are threatened by Nazi occupation and an enemy she must face alone
Travel Guide
A historical novel set in Fonzaso inspired by a true story
Fonzaso is a small remote mountain village in Italy.
This is the village where most of the novel is set. Nina lives withher mother and promises she will never leave her or their home. Her brother, like other men, are heading off to America in search of a new life.
Nina marries and settles in this village. Her husband gets a job in American working in the mines and sending money back home. Then the war breaks out and we see this relationship, between two different countries change as the war progresses.
Life in Italy will never be the same again. Life in Fonzaso will change in ways no one could have predicted. Its inhabitants like those across Italy are cut off and isolated from the rest of the world. Women are separated from their husbands who are called up for military service. Women like Nina are separated from their husbands, now in enemy territory.
BookTrail Boarding Pass: Under the Light of the Italian Moon
Destination/location:Fonzaso, Italy  Author/guide: Jennifer Anton Departure Time: WWII
Back to Results