Three Nights in Italy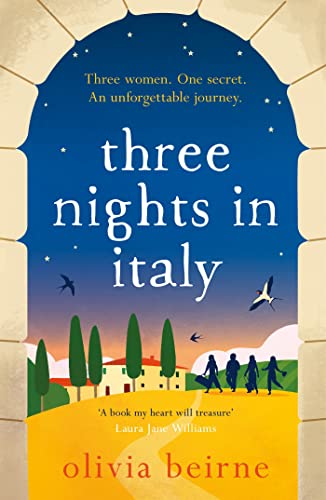 Why a Booktrail?
2023: THREE WOMEN. ONE SECRET. AN UNFORGETTABLE JOURNEY.
What you need to know before your trail
Zoe always knew this day would come. After all, no one can live for ever. She may not be ready, but Zoe knows the importance of goodbye – and how much it hurts when left unsaid – so it's time to return to her grandmother's home in Italy one last time. Even if that means deceiving her mum, Ange.
Harriet doesn't know where she fits anymore. It's not in Cornwall with the new family her mum is building, and it's certainly not in the job she hates. The trip to Italy may not be the adventure Zoe and Harriet promised themselves, but Harriet is simply not being left behind.
Ange was doing fine. Well, she was coping. Like she has been for the past fourteen years because her daughter needed her. But since her mother's death, nothing has felt fine. Even her relationship with Zoe is cracking at the seams.
Then, the last person any of them expects to see suddenly turns up, and soon it seems the only way to move forward is to revisit the past . . .
Travel Guide
Italy's Abruzzo region
Sulmona, Carsoni and Bugnara are all places along the railway in the Abruzzo region. The setting of Italy is important as the story of the main character's grandmother and past comes to life here.
The region is nicely evoked and most of the action takes place either on the train and the rolling countryside. Not so relaxing however due to the sad nature of the visit BUT it's very funny too as the shenanigans on the train and getting to the grandma's is most unusual!
BookTrail Boarding Pass: Three Nights in Italy
Destination/location: Italy, Abruzzo region Author/guide:  Olivia Beirne Departure Time: 2023
Back to Results