Something in the Water
Why a Booktrail?
2000s: You go diving, you find something in the water, something bad….what do you do?
What you need to know before your trail
Could the life of your dreams turn out to be a nightmare?
On the tropical island of Bora Bora Mark takes Erin scuba diving. Mark is with her – she knows he'll keep her safe. Everything will be fine. Until they find something in the water.
Have you ever wondered how long it takes to dig a grave?
Erin and Mark decide to keep their discovery a secret — after all, if no one else knows, who would be hurt? Their decision will trigger a devastating chain of events… which will endanger everything they hold dear.
Travel Guide
Norfolk
The story, after the chilling prologue, is set in Norfolk as the couple's early life is explained. They spend time on Holkham Beach but it's the description of an infamous murder case which took place in Burham Market as being the real chilling location!
Three people were  accused of poisoning people in their small village. The market is still there today  and the Hoste Arms pub was the scene of inquest and inquiry at the time. The victims are being in St Mary's Churchyard.
London
Where the couple meet, live at first and where their life unravels between expensive lunches at Cafe Royal a heady club night in Soho and a prison….
Bora Bora
"Our flight to Bora Bora is via a small plane with brightly dressed hostesses. Somehow Mark sleeps on the short bumpy flight."
Bora Bora airport is tiny. Two beaming women garland us upon arrival
The island itself seems stunning:
The whole airport island is just a long stretch of tarmac, edge with balding dry grass and a terminal building afloat in the blue of the South Pacific. A real-world visual representation of a man's dominance over nature.
The water all around glows emerald, up-lit through the green lagoon water. Soft candlelight bathes the thatched buildings, the communal areas, restaurants, and bars. Flaming torches flicker along the beachfront. Huts on stilts spill their orange warmth out into the thick darkness of the South Pacific  Ocean. And that moon. That moon, shining as bright as a high beam on a country road, shining out from behind the sharp towering silhouette of Mount Otemanu the extinct volcano at the center of Bora Bora's atoll.
Bora Bora – oh the tours! The palm trees, the beaches which run for miles and miles. The perspex floor of the helicopter they ride helps hem to see it all!
But then there's the real desert island, the blacktip sharks, the diving to depth and wrecks and something very very dark.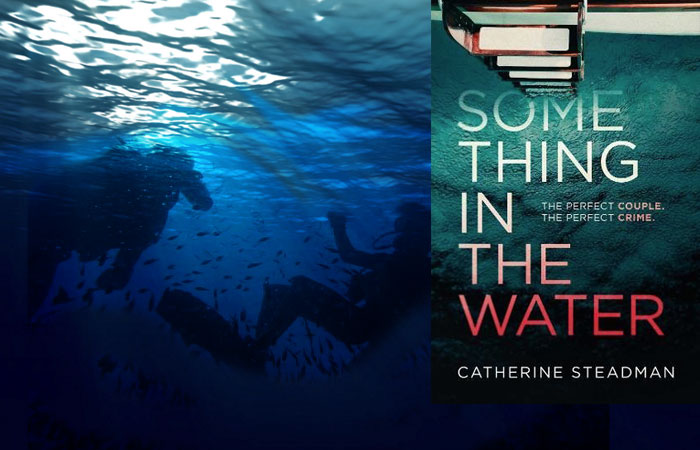 Booktrailer Review
Susan: @thebooktrailer

Addictive is not the word. Don't read it in public otherwise you'll frighten people with your noooooo! s aaahs and punches in the air. Haha best have some oxygen to hand as well to refuel. There's a lot to love in this novel. Crazy messed up characters, the honeymoon from hell, the treasure hunt aspect of it all. Oh my goodness.

IT's fast paced and draws you along like the most dangerous ocean current, before sucking you in then letting you gasp out loud at the next chapter. It was thrilling waiting to see what Erin would do next. What would I have done? Would I have done that? It really tests you and more and that's what makes it so compelling. There's also a bit of a moral lesson or dilemna in this book. I've never been quite so excited about a thriller before. Would I pass the test…would you?

Brilliantly entertaining and devilously dark. The thrill of this will stay with me for a while. But I still really really want to go to Bora Bora…is that weird after reading this? The setting is so lusciously described I could smell the aroma of the flowers and see the sparkling sea. Not sure I'd go diving though.

Highly recommended!
I had a great time with this one! Bora Bora eh? You might think it sounds like paradise but it's not!

Recommended with bells on.
Booktrail Boarding Pass:   Something in the Water
Destination :   Norfolk, London, Bora Bora, Geneva  Author/Guide: Catherine Steadman  Departure Time: 2000s
Back to Results