The Turnout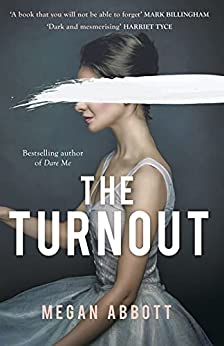 Why a Booktrail?
2000s: Behind the scenes of the Durant School of Dance….and deadly drama…
What you need to know before your trail
With their long necks and matching buns and pink tights, Dara and Marie Durant have been dancers since they can remember. Growing up, they were trained by their glamorous mother, founder of the Durant School of Dance. After their parents' death in a tragic accident nearly a dozen years ago, the sisters began running the school together, along with Charlie, Dara's husband and once their mother's prized student. The three have perfected a dance that keeps the studio thriving.
But when a suspicious accident occurs, just at the onset of the school's annual performance of The Nutcracker-a season of competition, anxiety, and exhilaration-an interloper arrives and threatens their delicate balance.
Travel Guide
Behind the scenes of the Durant School of Ballet
Sisters Dara, Marie and Dara's husband Charlie take over the family ballet school founded in 1986. The Durant School of Dance is located over 2 floors of a small rusty brick building  in town and looks as uninviting and unremarkable as any office block.
The family have always been a bit strange – they call the gingerbread house they live in 'Gretel house'. These are buildings with secrets and more. This is a novel built on Ballet and the performance of The Nutcracker is at the centre of the tale.
"Long summer nights, the click of the beetles, the soft grind of the cicadas, all those crickets rubbing their legs together, the low moan of the mosquitoes at the screen."
BookTrail Boarding Pass: The Turnout
Destination/location: Alberta Author/guide: Megan Abbott Departure Time: 2000s
Back to Results