The Turnglass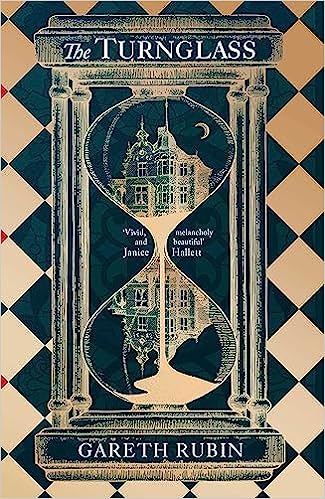 Why a Booktrail?
1880s, 1930s: Two mysterious houses. Two continents. One secret
What you need to know before your trail
1880s England. On the bleak island of Ray, off the Essex coast, an idealistic young doctor, Simeon Lee, is called from London to treat his cousin, Parson Oliver Hawes, who is dying. Parson Hawes, who lives in the only house on the island – Turnglass House – believes he is being poisoned. And he points the finger at his sister-in-law, Florence. Florence was declared insane after killing Oliver's brother in a jealous rage and is now kept in a glass-walled apartment in Oliver's library. And the secret to how she came to be there is found in Oliver's tête-bêche journal, where one side tells a very different story from the other.
1930s California. Celebrated author Oliver Tooke, the son of the state governor, is found dead in his writing hut off the coast of the family residence, Turnglass House. His friend Ken Kourian doesn't believe that Oliver would take his own life. His investigations lead him to the mysterious kidnapping of Oliver's brother when they were children, and the subsequent secret incarceration of his mother, Florence, in an asylum. But to discover the truth, Ken must decipher clues hidden in Oliver's final book, a tête-bêche novel – which is about a young doctor called Simeon Lee .
Locations
Reset
America/USA - CA - Los Angeles
Travel Guide
Essex, England
The main settting of the novel in one story is Ray Island, also known as the Ray.
, It is a 40.5-hectare nature reserve west of Mersea Island and is owned by the National Trust. This is where the mysterious Turnglass House is located with its secret walls and hidden stories.
The marshlands around the house are unforgiving and bleak. Some of the most atmospheric writing ever describes the Strood, the passageway to the island, the weather, the dark shadows and the mystery of what goes on in the dark, dark house.
We visit Colchester and The Peldon Rose Inn! You have got to read some of the book here – it would blow your mind!
London is nicely evoked with the ink running in the streets from the printing presses, the posh squares and parks that our characters frequent.
Los Angeles
There is not as much description of setting here but the house on the cliffs at Point Dume is described in style. Glass, stately and imposing.
Glass, Turnglass, reflection and looking in. Do you see what you think you see?
BookTrail Boarding Pass: The Turnglass
Destination: London, Colchester, Mersea, Los Angeles  Author/guide: Gareth Rubin Departure Time: 1830s, 1930s
Back to Results