The Translator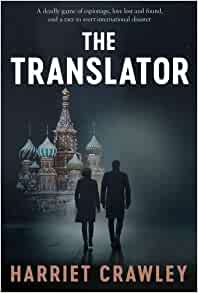 Why a Booktrail?
2017: A Russian language expert in the Foreign Office, is summoned unexpectedly to Moscow.
What you need to know before your trail
Clive Franklin, a Russian language expert in the Foreign Office, is summoned unexpectedly in 2017 to Moscow, to act as translator for the British Prime Minister. His life is turned on its head when, after more than a decade, he discovers that his former lover, Marina Volina, is now the interpreter to the Russian President. At the British Embassy, Clive learns of a pending Russian assault on undersea cables linking the US to the UK which would paralyse Western communications. Marina stuns Clive with the news that she's ready to help the UK to stop the attack, betraying her country for a new identity and a new life. While some spy stories are globe-trotting and action packed, this one centres on one city, Moscow, and on a rekindled yet passionate love affair. A genre-bending story that sustains the difficult balancing act of melding a love story with a tale of espionage in the process shedding light on what is happening in Russia today.
Travel Guide
The Cold War and modern day Russia
A novel about a Russian plot to cut the undersea communication cables linking the US to the UK. It gives a good insight into what it must be like to be a translator in the Foreign Office at a high level when something like this happens.
The atmosphere across the embassies and political corridors in Russia is fascinating and wonderfully evoked by the author. An insider  – and you can tell with the detail and atmosphere created.
Written by an insider: Harriet Crawley lived in Moscow for many years, working in the energy sector at a time of exploding wealth concentration and increasingly violent political repression.
BookTrail Boarding Pass: The Translator
Destination: Moscow  Author/guide: Harriet Crawley Departure Time: 2017
Back to Results