The Staycation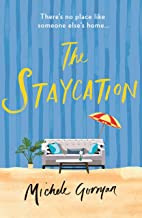 Why a Booktrail?
2000s:  Two families. One cancelled flight. And a last minute house swap…
What you need to know before your trail
Things get desperate for strangers Harriet and Sophie when they become stranded with their families in Heathrow's Terminal 5. Each woman has her own reason for really really really needing the family holiday they've anticipated for months. But an unruly volcano has other plans for them. When their flights are cancelled, the families swap houses and discover that sometimes the best things in life happen close to home.
This ash cloud has a silver lining, even if no one can quite see it yet.
Travel Guide
A staycation in London instead of Rome?
The characters in this novel are all excited about going to Rome to see the sights of the city. St Peter's Square, Vatican City and the Coliseum to name but a few. They really want to sit by the side of the road and have a drink soaking in the sights and the history. However, at the airport they find that their flight, along with several others, has been cancelled due to the Icelandic Ash cloud. They have to stay home!
There's mention of London life including a funny scene at John Lewis's Oxford Street store. Then it's up to Gloucestershire and  lovely holiday home there. Location is vague but the setting of a country escape with  bickering characters who realise that they are going to have to be together and not in Rome!
BookTrail Boarding Pass: The Staycation
Destination/location: London, Gloucestershire   Author/guide: Michele Goran  Departure Time: 2000s
Back to Results