The Sharp Edge of a Snowflake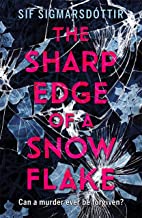 Why a Booktrail?
2000s: Snow in Iceland is dangerous.
What you need to know before your trail
Hannah Eiríksdóttir has been banished from her home in London to a place of eternal punishment for the wicked. No, not Hell, but close: Iceland. There, she faces a new life working as a journalist for her father's newspaper – a man she barely knows.
Imogen Collins has the perfect life as a social media influencer, showing off her glamorous London existence to adoring fans. But behind the filters lies a dark secret. She thought she'd buried it: But the Beast is back – a ghost from her past who's threatening to ruin her future.
When a man is found murdered at the edge of the road in snowy Iceland the girls' lives collide. Imogen had the motive. Can Hannah find out the truth, and discover the reality of the girl beneath the filters?
Behind perfection often lies unbearable ugliness.
Travel Guide
Travel to Iceland with a YA novel
The setting is unusual for a YA novel with the long dark nights, the snow, the remote communities with secrets and more secrets. London and Iceland are the backdrops for the story but Iceland is much more evoked and part of the novel than London.
The real setting of the book is of course social media and there is a constant clever use of the social media words, terminology and hashtags.
BookTrail Boarding Pass: The Sharp Edge of a Snowflake
Destination/location: Iceland  Author/guide:  Sif Sigmarsdottir   Departure Time: 2000s
Back to Results