The Ruin of All Witches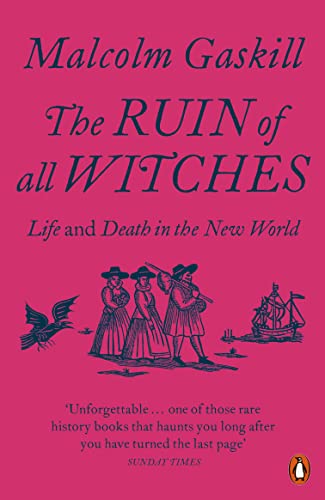 Why a Booktrail?
1561: In the frontier town of Springfield, peculiar things begin to happen.
What you need to know before your trail
In the frontier town of Springfield in 1651, peculiar things begin to happen. Precious food spoils, livestock ails and property vanishes. People suffer fits and are plagued by strange visions and dreams. Children sicken and die. As tensions rise, rumours spread of witches and heretics, and the community becomes tangled in a web of spite, distrust and denunciation. The finger of suspicion falls on a young couple struggling to make a home and feed their children: Hugh Parsons the irascible brickmaker and his troubled wife, Mary. It will be their downfall.
Locations
Reset
America/USA - Oregon - Springfield
Travel Guide
Springfield and the witches, 1961
The Ruin of All Witches tells the dark, real-life folktale of witch-hunting in a remote Massachusetts plantation. These were the turbulent beginnings of colonial America, when English settlers' dreams of love and liberty, of founding a 'city on a hill', gave way to paranoia and terror, enmity and rage. Drawing on uniquely rich, previously neglected source material, Malcolm Gaskill brings to life a New World existence steeped in the divine and the diabolic, in curses and enchantments, and precariously balanced between life and death.
This is the story of the witch hunt involving Mary and Hugh Parsons in 1651 New England..
The real life story took  place in 1651 in Springfield, Massachusetts. Most people are familiar with the Salem Witches of 1692 but there were many other early New Englanders who suffered the same fate.
Mary's case was heard right away. She was found guilty of witchcraft and murder of her child and was sentenced to die by hanging. She was given a reprieve on the 29th of May. Nothing more is known about her fate although it is presumed that she died in prison as her execution was never recorded.
Hugh's trial did not occur for another year. On 12 May 1652 Hugh was found guilty of witchcraft but two weeks later the verdict was rescinded by the General Court. John Pynchon sold his lands in Springfield and forwarded him the proceeds.  What he did after the trial is also unknown as is the fate of their daughter Hannah.
BookTrail Boarding Pass: The Ruin of All Witches
Destination: Springfield  Author/guide: Malcolm Gaskill  Departure Time: 1561
Back to Results