The Mountains Sing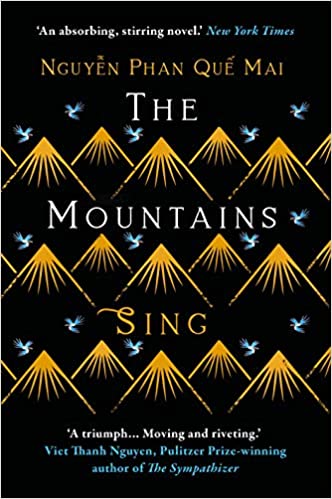 Why a Booktrail?
1972:  One family, two generations of women and a war that will change their lives forever
What you need to know before your trail
As war breaks out in Viet Nam, twelve-year-old Hương clings to her grandmother in an improvised shelter as American bombs fall around them. For her grandmother, the experience is horribly familiar. This is a woman who knows what it takes to hold a family together as a country crumbles. And now, coming of age in a nation rocked by conflict, Hương must do the same.
With the epic sweep of Min Jin Lee's Pachinko and the haunting beauty of Khaled Hosseini's The Kite Runner, The Mountains Sing tells the enveloping, multigenerational tale of the Trần family, intimate, lyrical and bursting with life.
Travel Guide
Discover Vietnam with author Nguyễn Phan Quế Mai
The author says that this is her most personal work to date:
"It is my desperate call for peace and for humans to love other human beings more. I echo my call in the form of this novel, because as in the words of Hương: "Somehow I was sure that if people were willing to read each other, and see the light of other cultures, there would be no war on earth."
I hope that the diacritical marks that accompany the Vietnamese names and words in THE MOUNTAINS SING don't interfere with your reading experiences. Those marks might look strange at first but they are as important as the roof of a home. The word "ma," for example, can be written as ma, má, mà, mả, mạ, mã; each meaning very different things: ghost, mother, but, grave, young rice plant, horse. The word "bo" can become bó, bỏ, bọ, bơ, bở, bờ, bô, bố, bồ, bổ (bunch, abandon, insect, butter, mushy, shore, chamberpot, father, mistress, nutritious). By reading THE MOUNTAINS SING, you already show your acceptance and appreciation of my mother tongue's beauty and complexity. Thank you!"
Nghe An
"That night and for the next many nights, to dry my tears, Grandma opened the door of her childhood to me. Her stories scooped me up and delivered me to the hilltop of Nghe An where I could fill my lungs with the fragrance of rice fields, sink my eyes into the Lam River, and become a green dot on the Truong Son mountain range. In her stories, I tasted the sweetness of sim berries on my tongue, felt grasshoppers kicking in my hands, and slept in a hammock under a sky woven by shimmering stars…I was astonished when Grandma told me how her life had been cursed by a fortune-teller's prediction, and how she had survived the French occupation, the Japanese invasion, the Great Hunger, and the Land Reform…"
BookTrail Boarding Pass: The Mountains Sing
Destination/location: Vietnam  Author/guide: Nguyễn Phan Quế Mai  Departure Time: 1962
Back to Results