The Midwife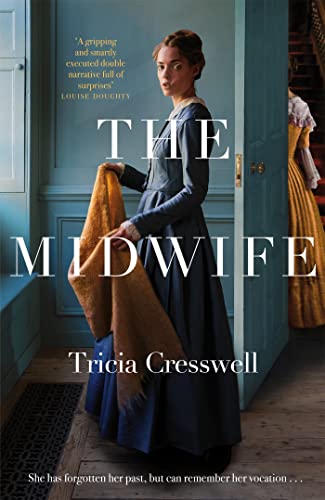 Why a Booktrail?
1838: A woman is found near death on the Northumberland Moors
What you need to know before your trail
1838. After a violent storm, a woman is found alone, naked and near death, on the Northumberland moors. She has no memory of who she is or how she got there. But she can remember how to help a woman in labour and how to expertly dress a wound, and can speak fluent French. With the odds against her, a penniless single woman, she starts to build her life from scratch, using her skills to help other women around her. She finds a happy place in the world. Until tragedy strikes, and she must run for her life . . .
In London, Dr Borthwick lives a solitary life working as an accoucheur dealing with mothers and babies in the elegant homes of high society together with his midwife, Mrs Bates, and volunteering in the slums of the Devil's Acre alongside a young widow, Eleanor Johnson. His professional reputation is spotless and he keeps his private life just as clean, isolating himself from any new acquaintances. But he is harbouring a dark secret from his past – one that threatens to spill over everything.
Locations
Reset
North East England - Nlorthumberland
Travel Guide
Northumberland in the 1800s
The wonderful moors of Northumberland are well evoked in the novel. The author looked at the area in and around  Edlingham village and Alnwick but some of the places are not strictly where they are in real life. Artistic licence of course.  The overall setting is stilll very much the heart and essence of Northumberland.
London
Some of the novel takes place in the posh area of Belgrave Square in the city. Contrast this with the scenes set in rural Northumberland.
Booktrailer Review
I am always fascinated about how women have had to fight to get where they are today. We have female doctors, firemen and they are in all of the professions traditionally thought of as male. This story is so well crafted and written, the detail of what it was like to be a woman in medicine. So realistic I felt queasy at times, but that is a complement to the author!

There are two threads to the story, set in London and Northumberland, and they come together very nicely indeed. Intrigue and mystery tie them together and it was really insightful getting to know the characters from both sides. Northumberland played a starring role and I was captivated seeing how the woman found on the moors fitted into society and started helping out in the village. However trouble was not far away. Switch to London, and that doctor, well it was obvious he was up to something from day one…

An impressive debut and great research that blended seamlessly into the plot.
BookTrail Boarding Pass: The Midwife
Destination/Location: Northumberland, London  Author:Tricia Cresswell   Departure: 1803
Back to Results