The London Seance Society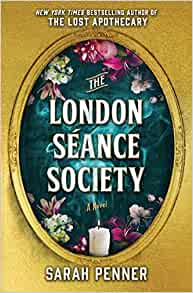 Why a Booktrail?
1873: May mercy be upon the man who finds himself the enemy of a vengeful medium…
What you need to know before your trail
1873. At an abandoned château on the outskirts of Paris, a dark séance is about to take place, led by acclaimed spiritualist Vaudeline D'Allaire. Known worldwide for her talent in conjuring the spirits of murder victims to ascertain the identities of the people who killed them, she is highly sought after by widows and investigators alike.
Lenna Wickes has come to Paris to find answers about her sister's death, but to do so, she must embrace the unknown and overcome her own logic-driven bias against the occult. When Vaudeline is beckoned to England to solve a high-profile murder, Lenna accompanies her as an understudy. But as the women team up with the powerful men of London's exclusive Séance Society to solve the mystery, they begin to suspect that they are not merely out to solve a crime, but perhaps entangled in one themselves…
Travel Guide
The London Seance Society
The author esplains the story behind her story and it's quite a revelation!
The London  Seance Society was based on the very real The Ghost Club which still exists today.
"In the late Victorian era, the spiritualist movement – central to which was communication with the dead, especially through mediums- was in its heyday. Victorians were fascinated by anything otherworldly, or occult. Parlor-room seances were a frequent occurrence as were public theatrical displays of mediumship amd physic power."
"By and large, the  most well-known mediums of this time were women. Spiritualist was one of the only professions in which women were more highly respected than men."
BookTrail Boarding Pass: The London Seance Society
Destination: London  Author/guide: Sarah Penner Departure Time:1873
Back to Results