The Lizard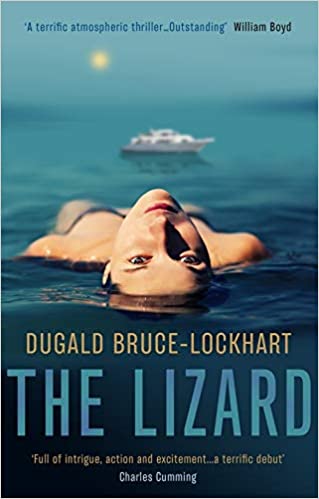 Why a Booktrail?
2000s: Sometimes a holiday is not what you need….
What you need to know before your trail
Obsessed with his ex-girlfriend, Alistair Haston heads off to Greece, where she is on holiday. Mugged on the harbourside in Paros, he is robbed of everything. So when Ricky a charming Aussie, shows up and offers Alistair a job recruiting tourists to pose for his wealthy boss, Heinrich, a charismatic, German artist, Alistair accepts. He soon realises that it is more than just painting that Heinrich has in mind.
Swept away on a tide of wild parties, wild sex, fine food and drugs Haston sheds his reserve and throws himself headlong into the pursuit of pleasure. Until, the body of a missing tourist is found and the finger of blame points to Haston. His world collapses. Arrested but allowed to escape, the body count piles up and Haston finds himself on the run by land and sea on a journey more breathtaking and more frightening than his wildest dreams.
Travel Guide
Travel to Greece but beware of The Lizard
With an air of The Beach about it, this backpacking tale is set in amongst the Greek Islands and the island of Paros in particular. This is where the ex-girlfriend of Alistair has gone so, he's off to get her back. Why not travel and drink and have a few laughs on the way? There's a danger however than lone travellers, any traveller for that matter, might decide to throw caution to the wind, drink, go on the beach and get involved with things you might not do at home. Some of which you would definitely not do at home.
The island of Paros is the place to be!
They land at the port and that's where things start to go wrong. In real life, this is  a lovely place to visit however. Just up the coast is the campsite where Alistair goes. There's plenty of beaches mentioned and spots to snorkel too such as Krios Beach. Parikia is the capital and the main port of Paros island and is where Alistair looks for work.
Noussa
They take a moped to explore this town in the north of the island.
"Naoussa with its wind-beaten, untarnished rocky coastline, was a completely different vibe from Parikia. An authentic fishing port, where the boats where hauled up onto the bank to dispense their catch while the seamen mended their nets, where the locals seemed for once to outnumber the tourists."
It has a 'spider web of of tiny alleys' to according to the novel!
BookTrail Boarding Pass: The Lizard
Destination/location: Paros Island Author/guide:  Dugald Bruce-Lockhart  Departure Time: 2000s
Back to Results