The Last House on Needless Street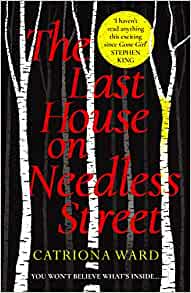 Why a Booktrail?
2000s: Welcome to Needless Street….and the last house….
What you need to know before your trail
This is the story of a murderer. A stolen child. Revenge. This is the story of Ted, who lives with his daughter Lauren and his cat Olivia in an ordinary house at the end of an ordinary street.
All these things are true. And yet some of them are lies.
You think you know what's inside the last house on Needless Street. You think you've read this story before. In the dark forest at the end of Needless Street, something lies buried. But it's not what you think…
Locations
Reset
Needless locations around the world
Travel Guide
Where is Needless Street?
There are no real locations here thank goodness but there is a Needless Street in any country you can think of. More than one of them.
the street, the houses, the last house and those woods….
Dark, creepy, foreboding and plain strange.
Not to mention dangerous and harrowing.
Enter at your peril ( but do read the book although not at night.)
BookTrail Boarding Pass: The Last House on Needless Street
Destination/location: The darkest recesses of the human mind  Author/guide: Catriona Ward Departure Time: ?
Back to Results