The Jetsetters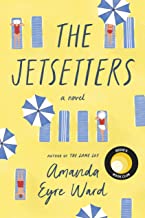 Why a Booktrail?
2000s: A family reunited on a holiday of a lifetime…what could possibly go wrong?
What you need to know before your trail
When 70-year-old Charlotte Perkins submits an essay to the 'Become a Jetsetter' contest, she dreams of reuniting her estranged children: Lee, an almost-famous actress; Cord, a handsome Manhattan venture capitalist; and Regan, a harried mother who has never forgiven Charlotte for buying her a Weight Watchers gift certificate for her birthday.
But when she wins the cruise, the reality is not quite as she expected. As they sail from sun-drenched Athens, to glorious Rome, to tapas-laden Barcelona, lovers old and new join the adventure, and long-buried secrets are revealed.
Can four lost adults find their way back to themselves, and to each other? And more importantly, can they do it without killing each other?
Travel Guide
Join the cruise of The Jetsetters around the Med BookTrail style
When you're stuck on a cruise with your dysfunctional family, there really is no place to escape. This is a book which takes you around many locations but the real focus here is what goes on on  board that floating….paradise or prison?
After winning a competition for a cruise, an elderly mother and her adult children go on a journey of two parts….
The itinerary:
Athens, Greece
Rhodes, Greece
Valleta Malta
Sicily , Italy
Naples, Italy
Rome, Italy
Florence, Italy
Marseilles France
Barcelona Spain
BookTrail Boarding Pass: The Jetsetters
Destination/location: A Cruise around the Med    Author/guide: Amanda Eyre Ward    Departure Time: 2000s
Back to Results