The Evil Within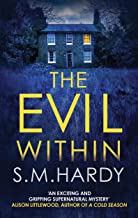 Why a Booktrail?
2000s: You move to Devon thinking it might be a peaceful haven
What you need to know before your trail
On the brink of a breakdown, two years after the death of his fiancee, Jim Hawkes quits his high-powered job in the City to rent a cottage in the Devonshire countryside seeking some well-needed rest. But Slyford St James is far from the peaceful haven Jim was hoping for. Almost immediately he is plagued by strange occurrences: a combination lock that won't open, loud noises in the attic, the figure of a little girl always just out of sight. His new village friends, Jed and Emma, are convinced Jim has found his way to the village for a reason, to solve the mystery surrounding the suspicious death of a child. But as Jim is haunted by the ghosts of his past and endangered by a real-world threat in the present, it soon becomes apparent that true evil never dies.
Travel Guide
The novel starts briefly in London where the main character Jim Hawkes suffers a breakdown. This is what London represents: stress, a high-powered job, the daily commute and never-ending pressure.
Contrast that to the (fictional) Devon village of Slyford St James and a nice, old cottage where you would hope to rest and relax. However, this house starts to show some very strange signs of activity. He starts to hear things, see things and notice things. The house in the middle of nowhere seems to be trying to tell him something. One thing is sure, it's not going to leave him alone.
Slyford St James sounds like an idyllic Devon village but appearances can be very deceptive.
BookTrail Boarding Pass: The Evil Within
Destination/location: Devon  Author/guide:  S M Hardy  Departure Time: 2000s
Back to Results