The Disaster Tourist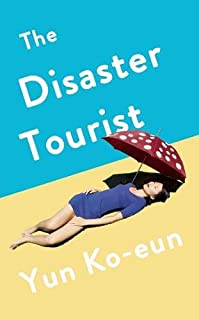 Why a Booktrail?
2000s: Would you go on a disaster holiday?
What you need to know before your trail
Yona has been stuck behind a desk for years working as a programming coordinator for Jungle, a travel company specialising in package holidays to destinations ravaged by disaster. When a senior colleague touches her inappropriately she tries to complain, and in an attempt to bury her allegations, the company make her an attractive proposition: a free ticket for one of their most sought-after trips, to the desert island of Mui.
She accepts the offer and travels to the remote island, where the major attraction is a supposedly-dramatic sinkhole. When the customers who've paid a premium for the trip begin to get frustrated, Yona realises that the company has dangerous plans to fabricate an environmental catastrophe to make the trip more interesting, but when she tries to raise the alarm, she discovers she has put her own life in danger.
Travel Guide
A holiday to Korea and Vietnam you will never forget
 Jungle
A travel company that specialises in package holidays and tours to locations destroyed in some way by disasters. You can choose to visit areas hit by tsunamis, earthquakes, sinkholes, nuclear incidents and more. Think this is in bad taste? Some companies already organise tours to Chernobyl and the favelas of Brazil already as they do in the novel.
Options:
New Orleans – Hurricaine Katrina
New Zealand – Christchurch earthquake
Chernobyl – nuclear disaster
Brazil – favelas
Sri Lanka, Japan, Phuket –  tsunamis
"Voyagers carried survival kits, generators and tents as they searched out disaster zones worthy of exploration. They were the kind of people who would relish the chance to weather the open sea in search of the mythical island of trash. Jungle was the travel company for such adventures."
The first place Yona had ever been to was Nagasaki:
'The  city is home to statues commemorating citizens who lost their lives in the atomic bomb explosion ,as well as those who passed away in local storms."
BookTrail Boarding Pass: The Disaster Tourist
Destination/location: Korea, Vietnam  Author/guide: Yun Ko-Eun  Departure Time: 2000s
Back to Results