The Creak on the Stairs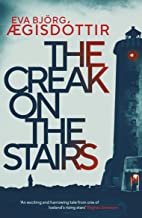 Why a Booktrail?
1989,1990's, 2017: Small towns have the biggest secrets….
What you need to know before your trail
When a body of a woman is discovered at a lighthouse in the Icelandic town of Akranes, it soon becomes clear that she's no stranger to the area.
Chief Investigating Officer Elma, who has returned to Akranes following a failed relationship, and her collegues Sævar and Hörður, commence an uneasy investigation, which uncovers a shocking secret in the dead woman's past that continues to reverberate in the present day …
But as Elma and her team make a series of discoveries, they bring to light a host of long-hidden crimes that shake the entire community. Sifting through the rubble of the townspeople's shattered memories, they have to dodge increasingly serious threats, and find justice … before it's too late.
Travel Guide
Welcome to Akranes, Iceland BookTrail style
A quiet and small town on the West of Iceland, not far north of Reykjavík. We come to Akranes as the main character Elma returns to this small town years after she left.
She realises that it is so flat and empty compared to the big city. She will be working in the local police station which is small but just as 'institutional' as the city centre one she was used to.
"Unlike the capital where trees and gardens had grown up over the years to soften the urban landscape and shelter  the inhabitants from Iceland's fierce winds, Akranes had little in the way of vegetation, and the impression of bleakness as made worse by the fact that many of the houses and streets were in poor repair."
The closure of one of the local fish factories has added to the overall sense of bleakness. The others still provided that aroma which seems to stain the village depending on the direction of the wind.
Akranes has the sea on three sides, and a range of mountains in the distance. At night, you can see the lights of Reykjavik from across Fazafloi Bay. It all sounds so lovely, so peaceful with its white lighthouse and small community, However, the lighthouse soon becomes the centre of a police investigation. The weather, landscape and blustery bleakness of this place are all very well evoked. Chillingly so.
This is a small town where nothing changes. Nothing has changed since Elma was last here. There's only some 7000 or so inhabitants here and everyone recognises everyone else. She returns as a local but as  an outsider. There's a stain on the community however. One that is just beginning to come to light. One which has been existing in plain sight…
BookTrail Boarding Pass: The Creak on the Stairs
Destination/location: Akranes  Author/guide: Eva Björg Ægisdóttir  Departure Time: 1989,1990's, 2017
Back to Results