The Christie Affair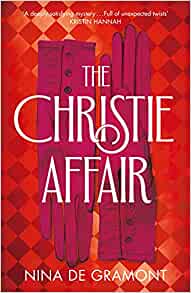 Why a Booktrail?
1926: Agatha Christie disappeared for 11 days. Only one person knows what happened. Her husband's mistress.
What you need to know before your trail
Agatha Christie's world is one of glamorous society parties, country house weekends, and growing literary fame.
Nan O'Dea's world is something very different. Her attempts to escape a tough London upbringing during the Great War led to a life in Ireland marred by a hidden tragedy.
After fighting her way back to England, she's set her sights on Agatha. Because Agatha Christie has something Nan wants. And it's not just her husband.
Despite their differences, the two women will become the most unlikely of allies. And during the mysterious eleven days that Agatha goes missing, they will unravel a dark secret that only Nan holds the key to . . .
Travel Guide
BookTrail the Agatha Christie locations
Harrogate – The Swan Hotel
The most famous hotel in the world if you're a Christie fan. This hotel features heavily in the novel as it's where, in real life, Christie came to hide. She wanted to escape her marriage and life for awhile. She knew he had a mistress and she spent 11 days away from the world.
Torquay
Perhaps the most famous of Christie Locations and this was her summer home. Now a musuem.
London
Cresswell Place – There is a blue plaque on the house which is near to the end of Priory Walk
58 Sheffield Terrace – This is where she lived from 1934 to 1941.
Booktrailer Review
I love an Agatha Christie – especially those she appears in herself. This was a very interesting take on a well known story – those 11 days when she disappears from her marriage and her life.

The story is told by Agatha's husband's mistress. Now I thought that might be strange at first as did I care what the mistress thought? Well, turns out, the author has made her human and someone with a voice. She's a very complex person with an interesting backstory of her own. Not condoning her in any way – plus Archie the husband is the bad guy here – but it was interesting to listen to her voice. I didn't like her, but she intrigued me and I was keen to find out what this person could share about the time Christie goes missing.

I got to know Agatha a little more too, but it's Agatha's marriage rather than the women herself which is examined. We see the struggles Agatha and Archie go through, what Nan adds to the mix and the mental anguish poor Agatha faces.

You do get a good look behind the scenes of that time and can really believe that this version of events is true.

There's not just one story in this novel however. In the Christie vein, this contains mystery , murder, red herrings, teenage mothers, the role of women in society and marriage struggles. This all takes place against the backdrop of the Great War which was changing the whole world and everyone in it.

Setting, mystery, landscape and iconic literary characters come together to create magic here. Recommended!
BookTrail Boarding Pass: The Christie Affair
Destination/location: England, Harrogate  Author/guide: Nina de Gramont Departure Time: 1926
Back to Results