The Book Lover's Bucket List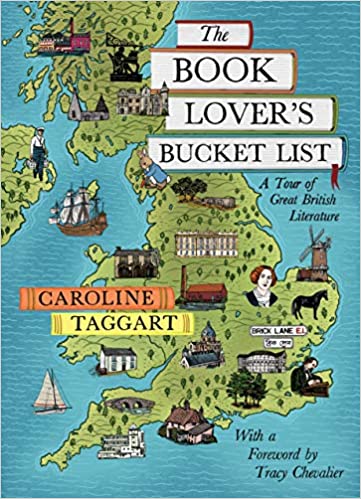 Why a Booktrail?
Travel literary style!
What you need to know before your trail
Exploring the gardens, monuments, museums, and churches with walks both urban and rural, from the Brontë parsonage in Haworth to Zadie Smith's North London and Shakespeare's Stratford, The Book Lover's Bucket List takes you through some 100 wonderfully described literary sites and landscapes, complete with colour destination photographs and illustrations from the British Library collections.
Travel Guide
Literary travel around Great Britain
Start with Chaucer, Dickens and Larkin in Westminster Abbey. Spend an afternoon at Colliers Wood Nature Reserve in Nottinghamshire and take in the lake D. H. Lawrence described as 'all grey and visionary, stretching into the moist, translucent vista of trees and meadow'. Venture south to Cornwall and work your way up to the Scottish Highlands, taking detours to Northern Ireland in the west and Norfolk in the east – or simply drop in on the place nearest to you. Wherever you are in the United Kingdom, you're never far from something associated with a good book.
So many places in this book! Too many to place on the map but rest assured you should really try and visit as many as you can. Brilliantly evoked, described and noted, there is going to be an increase of literary travel if this is anything to go by. Imagine doing a whole tour of ALL of these places….aah the ultimate dream!
Booktrailer Review
An easy five stars. A guide for booklovers, booktrailers and book people of all kinds who love to delve deeper into books and the lives of writers. The classics are all here such as Dickens and Chaucer but this book brings you Ali Smith and more modern tales and the mix is simply divine. There's so much to see and do and it would be wonderful to do this trail for real. Ah the dream! I was surprised I had been to so many already but there are so many gems I have yet to visit for real when we can. For now, however it was wonderful to do them via books and in my imagination.

I do love a book with photos, pictures and writing too and this was nicely done to really make both the books and the places pop. There is a lot to like here and so much reading and travel potential. That perhaps is the only downside to the book – that you will be buying more books and travelling more as a result. Oh the pressures until lockdown is lifted! That just means this book is ideal for preparation for the real event – as we all know literary travel provides huge joy and adventure in its own right.

I had so many books and ideas of places that I thought the book should have covered but then you can't please everyone can you and there are bound to be places that you feel should be there. Just means there's room for a 'sequel' Yippee!

Imagine having this on your coffee table and delving in from time to time to literary travel and dream all things bookish? Yes please!
BookTrail Boarding Pass: The Book Lover's Bucket List
Destination/location:  Great Britain  Author/guide:  Caroline Taggart  Departure Time:Right now!
Back to Results