That Night in Paris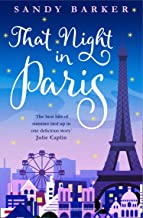 Why a Booktrail?
200s: Hands up if you fancy a coach trip around Europe!
What you need to know before your trail
Cat Parsons is on the run. She doesn't do relationships. After ten years of singlehood even the hint of the 'L' word is enough to get Cat packing her bags and booking herself onto a two-week holiday.
A European bus tour feels like a stroke of genius to dodge awkward conversations at home. But little does Cat realise that the first stop will be Paris, the city of love itself.
Joined by new friends, Cat has got two weeks, eight countries and a hell of a lot of wine ahead of her. As they discover hidden treasures and the camaraderie of life on the road, will Cat find a new way of looking at love?
Travel Guide
A European Coach trip BookTrail style!
The tour organised by Ventureseek is a good one:
"Two weeks, fifteen countries or something like that…"
Paris – Antibes – Florence – Rome – Venice – Lauterbrunnen, Koblenz and Amsterdam
There's a few unscheduled stops including Aix en Provence
In each city they stay an a fictional campsite just outside the main area but they go into the tourist areas and visit quite a few places. It's a whirlwind tour but a good one! There's too many places to list on the map but the main ones are there and the ones that don't give away plot points
Paris – The Catacombs are on the nighttime tour.These are tunnels underground the city filled with skulls. Quite the tour especially when you can't escape the darkness outside!
Antibes – it's a long journey here but the sun and sand more than make up for it. A brief visit to Cannes before the Italian leg begins
Florence –  From the Duomo to the leaning tower of Pisa, via the Uffizi Gallery, the river Arno and Piazza della Signoria, there's a lot of Florence covered
Rome –  Plaza Navrona is a major setting here as is the Vatican. They are inspired to go to the grand casino as inspired by the programme Top Gear. Make of that what you will. A whistlestop tour of Venice is next.
Switzerland – Mountains galore here and some rocky adventures
Amsterdam – Don't be too disappointed but this is barely mentioned as they have only four hours in the city before they have to head to the airport and the flight back to Paris.
BookTrail Boarding Pass: That Night in Paris
Destination/location:Paris, Antibes, Florence, Rome, Venice, Switzerland, Amsterdam  Author/guide: Sandy Barker  Departure Time: 2000s
Back to Results