Summer at the Highland Coral Beach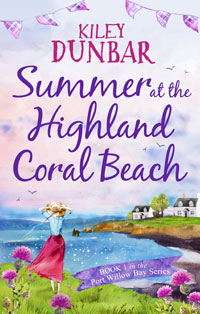 Why a Booktrail?
2000s: Escape to the Highland Coral Beach – where broken hearts can be healed
What you need to know before your trail
Beatrice Halliday needs a break from life. Booking a trip to the Highlands on a whim, Beatrice hopes learning Gaelic in a beautiful Scottish village might help her heal her grief after losing her baby, her husband and her much loved job in a space of months.
But Port Willow Bay isn't exactly as the website promised. Instead of learning a new language, she's booked in to learn the ancient skill of willow weaving, her hotel room is Princess and the Pea themed (with a stack of mattresses for her bed!) and worse still, her tutor is Atholl Fergusson, grumpy landlord of the hotel where Beatrice is staying – and she's the only one doing the course.
But as Beatrice finds herself falling in love with Port Willow Bay and its people, and as she discovers the kind heart beneath Atholl's stony exterior, can she really leave?
Escape to the beautiful Scottish Highlands with this utterly romantic, feelgood book; one visit to Port Willow Bay and you'll want to come back! Fans of Sarah Morgan, Carole Matthews and Holly Martin will be captivated.
Travel Guide
Travel to Plockton (and Skye)
Plockton is important to me for so many reasons, not only was it the perfect spot for a family holiday (me, my husband, our two kids, granny and grandad and Amos the Bedlington), but it was where my writing career began. Whilst on holiday I received an email from Hera Books. They were asking me to send more chapters from the novel (my first) I was hoping to get published at the time. I remember sitting in the cosy holiday cottage looking out over the water and hitting 'send' on the email, praying they'd sign me, which two months later they did!
My hero and heroine Atholl and Bea also take a day trip to the Isle of Skye for a picnic by the fairy pools, and we also spent a day's recce on the island. Driving over the Skye road bridge from Kyle of Lochalsh to the village of Kyleakin the views were spectacular and I really began to feel how remote we were. East Lothian (where I grew up) and South Cheshire (where I live now) felt a million miles away.
BookTrail Boarding Pass:  Summer at the Highland Coral Beach
Destination/location: Plockton (Fictional Port Willow) Skye  Author/guide: Kiley Dunbar    Departure Time:2000s
Back to Results