Sistersong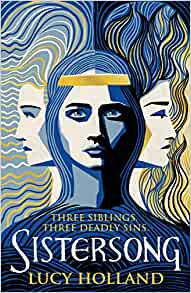 Why a Booktrail?
535AD : Betrayal. Magic. Murder. A tale of three siblings and three deadly sins.
What you need to know before your trail
King Cador's children inherit a land abandoned by the Romans, torn by warring tribes. Riva can cure others, but can't heal her own scars. Keyne battles to be seen as the king's son, although born a daughter. And Sinne dreams of love, longing for adventure.
All three fear a life of confinement within the walls of the hold, their people's last bastion of strength against the invading Saxons. However, change comes on the day ash falls from the sky – bringing Myrdhin, meddler and magician. The siblings discover the power that lies within them and the land. But fate also brings Tristan, a warrior whose secrets will tear them apart.
Riva, Keyne and Sinne become entangled in a web of treachery and heartbreak, and must fight to forge their own paths. It's a story that will shape the destiny of Britain.
Travel Guide
Ever Booktrailed it to Dumnonia?
This is the area now known as Devon and Cornwall (and some areas of present-day Dorset and Somerset).
Sistersong by Lucy Holland retells the folk ballad, The Two Sisters, through the eyes of one the tale forgot.
In this story, two sisters go down to the water. The older one pushes the younger in and refuses to pull her out again. It is said she is jealous as she has found out that she and her sister are being two-times by the same man. Some versions say that the man is not in love with the older sister. The young sister dies and when her body is pulled ashore, they make a musical instrument out of it. The instrument then plays itself and the hair is the strings. The song tells the family that the older sister is to blame for the murder. There are more than one version of the song however.
BookTrail Boarding Pass: Sistersong
Destination/location: Ancient Britain (Dumnonia -Devon and Cornwall)    Author/guide: Lucy Hounsom Departure Time: 535 AD
Back to Results