Oranges and Lemons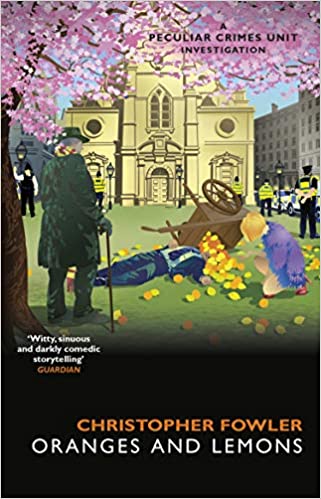 Why a Booktrail?
A trail around London according to the famous nursery rhyme!
What you need to know before your trail
It's a Sunday morning, and the outspoken Speaker of the House of Commons has just been crushed under a mountain of citrus fruit . . .
Bizarre accident or something more sinister? The government needs to know because here's a man who knows a thing or two that could compromise its future.
Bryant and May and the Peculiar Crimes Unit should be on the case, however it seems the PCU is no more with one detective is in hospital, the other gone AWOL with the rest of the team having been dismissed.
But events escalate, and soon a series of brutal yet undeniably clever killings linked to an old English nursery rhyme threaten society's very foundations and out-of-the-blue the PCU is (temporarily) back in business.
And if the two detectives – 'old men in a woke world' – can set aside their differences and discover why some of London's most influential figures are being threatened, they might not only save the unit but also prevent the city from descending into chaos . . .
Travel Guide
BookTrail the London of Bryant and May
The London featured in the Bryant and May books is really fascinating and feature some of the lesser known spots with tons of history! The sense of place is very much central to the story here and it features heavily throughout the novel as a character in the story itself. So much care and attention to detail in this author's crafting of London. Two geriatric investigators who take on the cases at the Peculiar crimes unit are something to be reckoned with and their view and experience of the city is a joy to read about. The Peculiar is close to King's Cross so you're right at the heart of the action.
A fascinating tour of London according to the churches in a nursery rhyme
The title refers to this old English rhyme featuring churches within the London city walls:
Oranges and lemons,
Say the bells of St. Clement's.
You owe me five farthings,
Say the bells of St. Martin's.
When will you pay me?
Say the bells at Old Bailey.
When I grow rich,
Say the bells at Shoreditch.
When will that be?
Say the bells of Stepney.
I do not know,
Says the great bell at Bow.
Here comes a candle to light you to bed,
And here comes a chopper to chop off your head!
BookTrail Boarding Pass: Oranges and Lemons
Destination/location: London  Author/guide: Christopher Fowler  Departure Time: 2000s
Back to Results