Nightmare Alley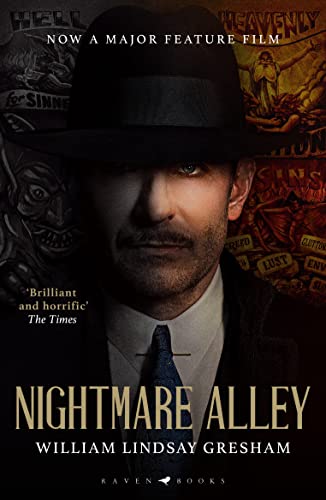 Why a Booktrail?
1920s: A travelling circus…but not as you know it.
What you need to know before your trail
Stanton Carlisle, employed as a carny at a travelling circus watches their freak-show geek – an abject alcoholic, the object of the voyeuristic crowd's gleeful disgust and derision – and wonders how a man could fall so low. There's no way in hell, he vows, that anything like that will ever happen to him.
Unlike the tragic figure he sees before him, Stan is young, clever and ambitious and quick to learn from the other carnival acts. Initially teaming up with a beautiful but vulnerable woman as part of a double act in which he mesmerises her, Stan soon leaves his circus days behind him, becoming a successful spiritualist who exploits the weak and the wealthy.
But even the very best con-men can meet their match….
Travel Guide
Discover the world of Nightmare Alley
"What sort of God would put us here in this goddamned, stinking slaughterhouse of a world?"
"Nothing matters in this goddamned lunatic asylum of a world but dough."
This is the story of a carnival that tours around the country and of the people who work inside this kind of lifestyle. Our main characters works as a magician and he travels from one town to another to put on a show. Carnival life is well evoked and it shows a very kind of life. Life, friendship, loyalty and protectionism are the things that rule life here.  Like modern seasonal workers today, they have to save money when working in popular states during the summer as they don't often work in winter.
BookTrail Boarding Pass: Nightmare Alley
Destination/Location: USA   Author:  William Lindsay Gresham Departure: 1920s
Back to Results