Nighthawking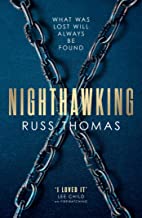 Why a Booktrail?
2000s: People are out at night searching for things under the cover of darkness…
What you need to know before your trail
Sheffield's beautiful Botanical Gardens – an oasis of peace in a world filled with sorrow, confusion and pain. And then, one morning, a body is found in the Gardens. A young woman, dead from a stab wound, buried in a quiet corner. Police quickly determine that the body's been there for months. It would have gone undiscovered for years – but someone just sneaked into the Gardens and dug it up.
Who is the victim? Who killed her and hid her body? Who dug her up? And who left a macabre marker on the body?
In his quest to find her murderer, DS Adam Tyler will find himself drawn into the secretive world of nighthawkers: treasure-hunters who operate under cover of darkness, seeking the lost and valuable . . . and willing to kill to keep what they find.
Travel Guide
Discover the world of Nighthawking and Sheffield's Botanical Gardens
The Sheffield Botanical Gardens are botanical gardens situated off Ecclesall Road in Sheffield, England, with 5,000 species of plants in 19 acres of land. The gardens were designed by Robert Marnock and first opened in 1836. The ideal place to find something unusual and exciting but a body in the novel was not what you would want to find in real life!
Most of the novel is set here and it looks at the various corners of the garden and how it makes the characters feel. It's also well evoked in the novel to show how important it is to those who live in the city. This garden provides a haven from the everyday hustle and bustle.
Nighthawking
The act of going metal detecting at night illegally.
BookTrail Boarding Pass: Nighthawking
Destination/location: Sheffield Author/guide: Russ Thomas Departure Time: 2000s
Back to Results