Mrs March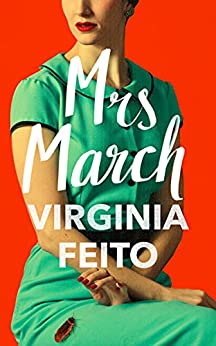 Why a Booktrail?
2000s: There's nothing more dangerous than other people's assumptions
What you need to know before your trail
George March's latest novel is a smash hit. None could be prouder than Mrs. March, his dutiful wife, who revels in his accolades and relishes the lifestyle and status his success brings.
A creature of routine and decorum, Mrs. March lives an exquisitely controlled existence on the Upper East Side. Every morning begins the same way, with a visit to her favourite patisserie to buy a loaf of
olive bread, but her latest trip proves to be her last when she suffers an indignity from which she may never recover: an assumption by the shopkeeper that the protagonist in George March's new book –
a pathetic sex worker, more a figure of derision than desire – is based on Mrs. March.
One casual remark robs Mrs. March not only of her beloved olive bread but of the belief that she knew everything about her husband – and herself – sending her on an increasingly paranoid journey, one
that starts within the pages of a book but may very well uncover both a killer and the long-buried secrets of Mrs. March's past.
Travel Guide
Mrs March and the Upper East Side of New York
Upper East Side
The posh, residential Upper East Side is known for its wealthy homes, posh restaurants and designer shops along Madison Avenue. This book guides you around this area and you get to visit a florist, a bookshop and of course the streets where the characters inhabit.
The novel is set in 2020s but it feels very old fashioned so you do get a good impression of life here in the 1950s. the Upper East Side seems like some sort of bubble where the novel confines its readers.
BookTrail Boarding Pass: Mrs March
Destination/location: New York, Upper East Side Author/guide:   Virginia Feito Departure Time: 2000s
Back to Results