Miss Benson's Beetle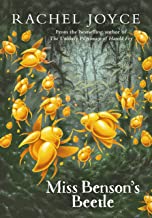 Why a Booktrail?
1950s: A woman goes in search of a beetle…
What you need to know before your trail
In a devastating moment of clarity, Margery Benson abandons her dead-end job and advertises for an assistant to accompany her on an expedition. She is going to travel to the other side of the world to search for a beetle that may or may not exist.
Enid Pretty, in her unlikely pink travel suit, is not the companion Margery had in mind. And yet together they will be drawn into an adventure that will exceed every expectation. They will risk everything, break all the rules, and at the top of a red mountain, discover their best selves.
This is a story that is less about what can be found than the belief it might be found; it is an intoxicating adventure story but it is also about what it means to be a woman and a tender exploration of a friendship that defies all boundaries.
Travel Guide
A journey of discovery BookTrail style to New Caledonia
The journey starts in Tilbury close to London and then they travel via Brisbane on a large ship before heading to New Caledonia
"Welcome to Paradise!New Caledonia, land of palm trees and coral reegs, home to the Kanak people, and where the kagu bird sings!
The first European to discover the island was Captain Cook in 1774. Since it reminded him of his homeland, Scotland,  he called it New Caledonia. One hundred years earlier, Napoleen ordered the annexation of the islands as a penal colony.He renamed them Nouvelle-Caledonie.
"Today the islands – fertile and beautiful  – abounding with forests and tumultuous  waterfalls…."
BookTrail Boarding Pass: Miss Benson's Beetle
Destination/location: London, New Caledonia  Author/guide: Rachel Joyce Departure Time: 1950s
Back to Results