Lost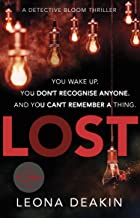 Why a Booktrail?
2000s: How can you solve a crime if you can't remember the clues?
What you need to know before your trail
There is an explosion at a military ball. The casualties are rushed to hospital in eight ambulances, but only seven vehicles arrive. Captain Harry Peterson is missing.
His girlfriend calls upon her old friend Dr Augusta Bloom, who rushes to support the investigation. But no one can work out what connects the bomb and the disappearance.
When Harry is eventually discovered three days later, they hope he holds the answers to their questions. But he can't remember a single thing.
Travel Guide
Travel through London, France and Africa – with Plymouth too – Don't get LOST
There are many locations in this novel – fleeting at times, but there is definately a sense of an international search and international intrigue focused on the work of the military and the secret services.
The main setting is Plymouth as this is where the military installations in the book are centered and where the book starts. It's also the crime scene is many ways and what happens later, we return here.
The international chase and search is fast and furious. The settings give a feeling of Lost as the search is on for missing secrets from the past. When you can't remember your past, the search for the truth could take you anywhere.
BookTrail Boarding Pass: Lost (Dr Bloom)
Destination/location: Plymouth, London, France, Africa  Author/guide: Leona Deakin  Departure Time:2000s
Back to Results