Inside 10 Rillington Place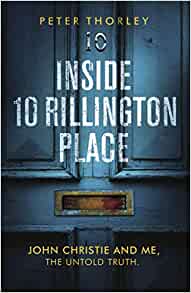 Why a Booktrail?
1940s/1950s: 10 Rillington Place: the house of death
What you need to know before your trail
John Reginald Halliday Christie and Timothy John Evans were hanged after a series of brutal murders in the 1940s and 1950s.
But should they both have been executed?
The sole survivor who grew up with Christie and Evans tells the untold story of what really happened inside 10 Rillington Place…
Travel Guide
One of the most infamous UK addresses…
To rest any associations with murderer John Christie, Rillington Place was renamed Runton Close in May 1954, but it was eventually demolished in 1970. The area that was once Rillington Place is now occupied by Bartle Road with the exact location of number 10 remaining undeveloped. The plot is now used as a communal garden.
Christie murdered at least eight people – including his wife, Ethel – by strangling them in his flat at 10 Rillington Place. This case sparked huge controversy after Evans, the lodger, was charged with both murders, found guilty of the murder of his daughter and hanged in 1950.
BookTrail Boarding Pass: Inside 10 Rillington Place
Destination/location: London Author/guide: Peter Thorley Departure Time: 1940s,1950s
Back to Results