Haven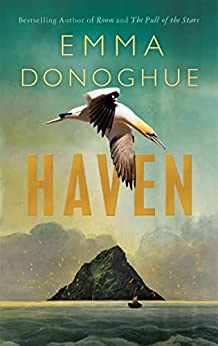 Why a Booktrail?
7th Century Island: Three monks set sail for a new life far from everywhere
What you need to know before your trail
In seventh-century Ireland, a scholar and priest called Artt has a dream telling him to leave the sinful world behind. Taking two monks–young Trian and old Cormac–he rows down the river Shannon in search of an isolated spot on which to found a monastery. Drifting out into the Atlantic, the three men find an impossibly steep, bare island inhabited by tens of thousands of birds, and claim it for God. In such a place, what will survival mean?
Travel Guide
Skellig Michael
The setting in the novel is a real place and is quite remarkable.  It is a twin-pinnacled crag  some 7  miles west of the Iveragh Peninsula in County Kerry, Ireland.
Its name archangel Michael, while "Skellig" is derived from the Irish word sceilig, which refers to a splinter of stone.
Skellig Michae ha a high point known as the Spit. The island is defined by its twin peaks and valley (known as Christ's Saddle).
It is best known for its Gaelic monastery, founded between the 6th and 8th centuries.
BookTrail Boarding Pass: Haven
Destination/Location: Skellig Michael   Author: Emma Donoghue Departure: 2000s
Back to Results