Founding Mothers: The Women Who Raised Our Nation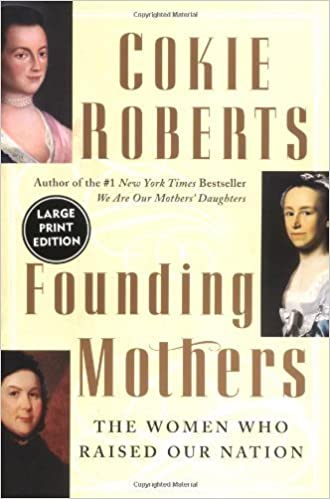 Why a Booktrail?
1776: The women behind the American Constitution
What you need to know before your trail
While much has been written about the men who signed the Declaration of Independence, battled the British, and framed the Constitution, the wives, mothers, sisters and daughters they left behind have been little noticed by history.
Travel Guide
The women behind the American Constitution
Cokie Roberts brings us women who fought the Revolution as valiantly as the men, often defending their very doorsteps. Drawing upon personal correspondence, private journals, and even favoured recipes, Roberts reveals the often surprising stories of these fascinating women, bringing to life the everyday trials and extraordinary triumphs of individuals like Abigail Adams, Mercy Otis Warren, Deborah Read Franklin, Eliza Pinckney, Catherine Littlefield Green, Esther DeBerdt Reed and Martha Washington–proving that without our exemplary women, the new country might have never survived.
The women behind American Independence
1. Abigail Adams, America's first voice for Women's Rights  2. Mary Barlett  3. Esther Burr  4. Lydia Darragh  5. Elizabeth Ellet
6. Deborah Read Franklin  7. Sally Franklin  8. Elizabeth Freeman  9. Emily Geiger
10. Mary Katherine Goddard   11. Catherine Raye Greene  12. Kitty Greene  13. Anne Gwinnett  14. Betsey Hamilton
15. Nancy Hart  16. Harriott Horry  17. Lucy Flukner Knox  18. Sarah Livingston Jay  19. Martha Jefferson  20. Martha Laurens
21. Sybil Luddington  22. Catherine Macaulay  23. Dolly Madison, an American icon for 2 decades  24. Francis Marion
25. Jane Franklin Mecom  26. Rebecca Motte  27. Sarah Osborne  28. Eliza Lucas Pinckney  29. Molly Pitcher  30. Sarah Prince  31. Jane Randolph
32. Esther DeBerdt Reed  33. Betsy Ross  34. Deborah Sampson  35. Elizabeth Schuyler  36. Annis Boudinot Stockton  37. Mercy Otis Warren
38. Martha Washington  39. Phillis Wheatley  40. Hannah Winthrop
Abigail Adams was the wife and closest advisor of John Adams, as well as the mother of John Quincy Adams. She is sometimes considered to have been a Founder of the United States, and is now designated as the first Second Lady and second First Lady of the United States
BookTrail Boarding Pass: Founding Mothers: The Women Who Raised Our Nation
Destination/location: USA  Author/guide:  Cokie Roberts   Departure Time: 1776
Back to Results