Eight Detectives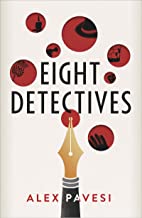 Why a Booktrail?
2000s: An author revisits a book from his past, and finds something very strange indeed…………..
What you need to know before your trail
All murder mysteries follow a simple set of rules. Grant McAllister, an author of crime fiction and professor of mathematics, once sat down and worked them all out.
But that was thirty years ago. Now he's living a life of seclusion on a quiet Mediterranean island – until Julia Hart, a sharp, ambitious editor, knocks on his door. His early work is being republished and together the two of them must revisit those old stories: an author, hiding from his past, and an editor, keen to understand it.
But as she reads, Julia is unsettled to realise that there are things in the stories that don't make sense. Intricate clues that seem to reference a real murder, one that's remained unsolved for thirty years.
If Julia wants answers, she must triumph in a battle of wits with a dangerously clever adversary. But she must tread carefully: she knows there's a mystery, but she doesn't yet realise there's already been a murder . .
Travel Guide
A tour of Mystery novels Agatha Christie style
The locations in this novel are not important. They're vague or fictional (Escombe) but what it lacks in location, it more than makes up for in setting. The setting is that of the greatest mystery novels that were ever written. Novel which remind you of Agatha Christie and the era of golden age crime, mystery and plotting that will have your head spinning.
There are a few locations of note in London but they are few and far between – only ever mentioned in passing. What is important is going into the story with the author and the characters and losing yourself within.
The Mediterranean island they speak of is never mentioned by name.
BookTrail Boarding Pass: Eight Detectives
Destination/location: Mediterranean, London  Author/guide: Alex Pavesi Departure Time: 2000s
Back to Results