Do No Harm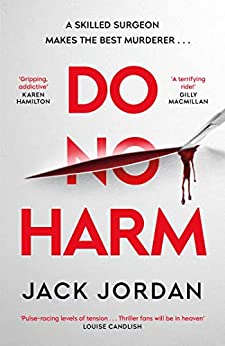 Why a Booktrail?
2000s: A skilled surgeon makes the best murderer
What you need to know before your trail
The man lies on the table in front of me.
As a surgeon, it's my job to save him.
As a mother, I know I must kill him.
You might think that I'm a monster.
But there really is only one choice.
I must get away with murder.
Or I will never see my son again.
I'VE SAVED MANY LIVES. WOULD YOU TRUST ME WITH YOURS?
Travel Guide
Set in a London hospital (fictional!)
If you are squeamish then this book might not be for you. It is mostly set in a hospital
and not just in the corridor but in the operation theatre itself. You can honesty hear the noise of
the scalpel and feel it too….
If you have ever wanted to know what goes on in an operation ( well not everything you understand
This book is fictional, then read this. But lying down would be best just incase you pass out.
The moral dilemma in the book will most likely keep you awake however.
BookTrail Boarding Pass:  Do No Harm
Destination/Location: London  Author: Jack Jordan Departure: 2000s
Back to Results