Devil's Breath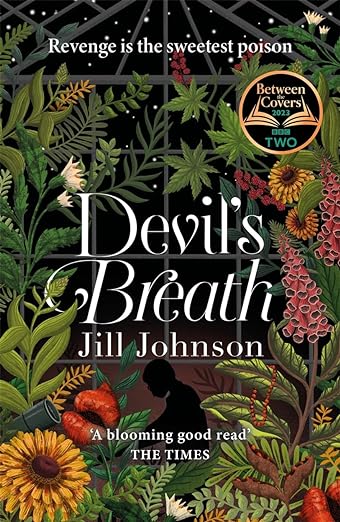 Why a Booktrail?
2023: Eustacia Rose has always been better with plants than people . . .
What you need to know before your trail
Eustacia Rose is a Professor of Botanical Toxicology who lives alone in London with only her extensive collection of poisonous plants for company. She tends to her garden with meticulous care. Her life is quiet. Her schedule never changes. Until the day she hears a scream and the temptation to investigate proves irresistible.
Through her telescope, Professor Rose is drawn into the life of an extraordinarily beautiful neighbour, Simone, and nicknames the men who visit her after poisonous plants according to the toxic effect they have on Simone. But who are these four men? And why does Eustacia Rose recognise one of them?
Just as she preserves her secret garden, she feels inexplicably compelled to protect her neighbour, but Eustacia soon finds herself entangled in a far more complicated web than she could ever have imagined. When her precious garden is vandalised and someone close to Simone is murdered with a toxin derived from a rare poisonous plant, Eustacia becomes implicated in the crime.
After all, no one knows toxic plants like she does . .
Travel Guide
London
If it's plants you want to explore, this is a good book to see them in a totally new way!
Kew Gardens features as does Hampstead Heath. London is in the background to the world of plants but Eustacia works in the city and lives in the city so we get a keen sense of her life and surroundings.
'I've always been better with plants than people . . .'
Plenty of places to see nice plants in London both in the book and outside of it!
Booktrail Boarding Pass: Devil's Breath
Destination:  London  Author/Guide:  Jill Johnson  Departure Time: 2023
Back to Results