Death Spiral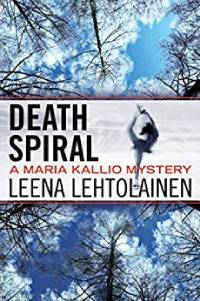 Why a Booktrail?
1990s: A young skater is murdered, slashed with her own skates.
What you need to know before your trail
Noora Nieminen was destined to become a world champion. But when the sixteen-year-old skating sensation is found slain with her own skates, her promising career is unexpectedly cut short.
Detective Maria Kallio is seven months pregnant, but that isn't going to stop her from putting everything she has into solving the murder. With a promotion on the line and her arrogant adversary, Pertti Ström, vying for the new job, Maria is determined to make an arrest. Could it be the deviant criminal who's lately been terrorizing the city? Is it the former lover of Noora's mother, who has been stalking the family since she rejected him? Or might the killer be someone even closer than that? With so much riding on Noora's success—and so many people with motives to murder—the detective must sift through the long list of suspects before the case turns ice cold.
Travel Guide
Helsinki and Espoo and the world of Figure Skating
The novel is firmly set in the literally in this case – cut throat world of figure skating. The story starts in the suburb of Helsinki  Matinkylä. The sports centre is located there which is of course fictional in the novel but the sense of the sporting life is very clearly evoked.
The police work on the case here and there's a nod to Helsinki of course as this is where Detective Maria Kallio  is from. She's 7 months pregnant and sorting out her own life and professional responsibilities. So this makes a nice contrast with the sporting environment of the main story.
BookTrail Boarding Pass: Death Spiral
Destination/location: Helsinki, Espoo    Author/guide:  Leena Lehtolainen Departure Time: 1990s
Back to Results