Death at Wolf's Nick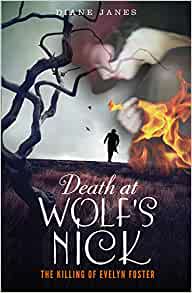 Why a Booktrail?
1931: The true story of a woman found in flames on the Northumberland moors
What you need to know before your trail
Beyond help, Evelyn Foster lay engulfed in flames near her burning car, desperately hoping to be found by a passing vehicle. With her last breath, she described her assailant: a mysterious man with a bowler hat who had asked her to drive him to the next village, then attacked her and left her to die.
What followed was a remarkable effort by some members of the police to track down Evelyn's killer while other members of the force questioned the circumstances, Evelyn's character and if there was even a man at all.
Professional crime writer and lecturer Diane Janes gained unprecedented access to Evelyn's case files. Through her evocative description, gift for storytelling and detailed factual narrative, Diane takes the reader back to the scene of the crime, painting a vivid picture of village life and the social attitudes of the 1930s.
Locations
Reset
England - Northumberland - Otterburn
Travel Guide
True life Northumberland crime
A woman was found burned to death in her car on a country road in Otterburn. The person responsible was never found although this book gives a good clue as to who and why.
Otterburn
Otterburn was smaller in 1931 than it is today and despite its position on one of the two main roads from Newcastle into Scotland, it was a peaceful place surrounded by wild but beautiful countryside. The majority of its in habitants worked on the land or at least at Otterburn mill, famed for tis fine tweeds and blankets.
This was the setting of a murder that has still not been solved to this day.
BookTrail Boarding Pass: Death at Wolf's Nick
Destination/Location:   Otterburn, Northumberland  Author Diane Janes  Departure: 1931
Back to Results