Clockwork Magpies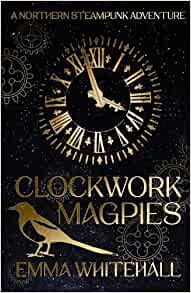 Why a Booktrail?
Debut Steampunk YA fantasy anyone?
What you need to know before your trail
By day, Ida is a quiet, standoffish maid in the employ of spoiled Lucinda Belmote. By night, she is the infamous sneak thief known as the Rat Prince, terrorising the wealthy inhabitants of Loxport; especially Lucinda's lecherous suitor, Lord Devon Casterbury.
Soon the boundaries between her dual lives begin to blur, as her mask begins to drop around a delightful waitress and a charming jeweller who both insist on befriending Ida. All the while she is thrust into a conflict surrounding new and dangerous materials that could upend the order of the city, land her behind bars or worse: in Lord Casterbury's employ.
A thrilling romp through the Steampunk city of Loxport, Clockwork Magies is a story of found family, crimes plotted over tea and scones, and the sinister power of glowing gemstones.
Travel Guide
Discover the steampunk town of Loxport
The book is set in the fictional, but steampunk city of Loxport. York is on the map as this seems very fitting!
All we know is that it is settled up north somewhere so it could be Yorkshire or the city of York itself as there are plenty of cobbled streets here and oldie worldie shops which could contain secret workshops where automata are created….
Loxport was England's shining star when it came to the 'Scientific Arts' – the study of automata, of crypto-biology, and other strange half-magical -sounding studies. Nestled away up in the North, far from the riff-raff, where knowledge and culture could flourish, money was funnelled into buildings where intelligent, well-bred people could get drunk, flirt and gawk at each others shiniest new toys. Ida couldn't have dreamed up a better city to prowl.
BookTrail Boarding Pass: Clockwork Magpies
Destination/Location: North East England, fictional Loxport   Author: Emma Whitehall  Departure: 2000s
Back to Results