Bunny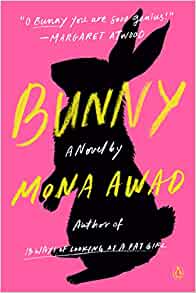 Why a Booktrail?
2000s: A girl tries to join the clique known as Bunny
What you need to know before your trail
Samantha Heather Mackey couldn't be more of an outsider in her small, highly selective MFA program at New England's Warren University. A scholarship student who prefers the company of her dark imagination to that of most people, she is utterly repelled by the rest of her fiction writing cohort–a clique of unbearably twee rich girls who call each other Bunny, and seem to move and speak as one.
But everything changes when Samantha receives an invitation to the Bunnies' fabled Smut Salon, and finds herself inexplicably drawn to their front door–ditching her only friend, Ava, in the process. As Samantha plunges deeper and deeper into the Bunnies' sinister yet saccharine world, beginning to take part in the ritualistic off-campus Workshop where they conjure their monstrous creations, the edges of reality begin to blur. Soon, her friendships with Ava and the Bunnies will be brought into deadly collision.
Locations
Reset
America/ USA - New England
Travel Guide
New England
Is there such a place where Bunny attends Warren University? Well, the play on words for a start!
Author Laurie Petrou says:
Bunny, by Mona Awad, is best approached blind, I think. It is the kind of book that prefers to catch you unawares, enjoying the line-by-line beauty of the work, the pitch-perfect world-building, before it clunks you on the head with a diabolical plot turn. You may very well find yourself putting the book down at the end and saying, 'What on Earth did I just read?'; and you will be better for it. Replete with manipulative friends, jealousy, and insufferable know-it-alls, Bunny has the familiar favourites of a campus novel with a completely unique spin.
BookTrail Boarding Pass: Bunny
Destination/Location: New England Author: Mona Awad Departure: 2000s
Back to Results