Ashes Of Berlin, (Gregor Reinhardt 3)
Why a Booktrail?
1945: World war 2 might be over but the world is now reeling from the aftermath…
What you need to know before your trail
World War II is over, and former German intelligence officer Captain Gregor Reinhardt has returned to Berlin. A year after Germany's defeat, he has been hired back onto Berlin's civilian police force. The city is divided among the victorious allied powers, but tensions are growing, and the police are riven by internal rivalries as factions within it jockey for power and influence with Berlin's new masters. When a man is found slain in a broken-down tenement, Reinhardt embarks on a gruesome investigation uncovering a dangerous serial killer.
Travel Guide
Back from the war , Reinhardt is now working as a detective in the newly shaped Berlin police. This is  a city which has been at the centre of a devastating war and the aftermath is just as brutal.  Life in the city is sad and raw. People are downtrodden and defeated in every sense of the word. Everyone is just tired. Very very tired.
There are four occupying police forces in the city and the political infighting between them is destroying everything that takes place. The city needs a time to heal and mend itself but there seems to be no chance of that happening.
"Berlin was a darkened city of darkened streets and an avalanches lies of brick and debris, learning the new architecture the war had gouged across Berlin's facades."
The moon's shards pierce through the city's jagged skyline. There are abandoned building and ruined building all over the city, scars on the landscape but the worse scars of course are those you can't see.
Neukolln
The American sector of the city at the time. "It has always been a rough neighourhood. Left-wig working lass,where the cops had never been welcome"
The changes in the city
The Soviets replaced the entire police force with 'anti-facist elements that often behave as badly as, if not worse than, their Facist forbears. Police officer are complicit in harassing the non Communist politicians and they are showing little cooperation with the Western Allies.
The last time Reinhardt had served in Berlin's police the HQ had been at Alexanderplatz which has since been bombed out. The TV tower is the best place to get an overall view of the city.
Berlin is a city which has emerged scarred and scorched into the light, its people arose to chase their shadows through the day, wending their way from who know where to who knew what beneath frowning escarpments of ruin and rubble.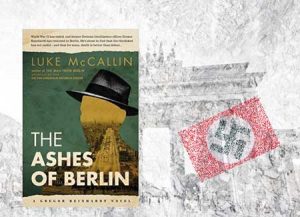 Booktrailer Review
Susan: @thebooktrailer

Following The Man From Berlin and his follow-up The Pale House, this is the third in the series and it's a novel of such depth and grit that I really got immersed into it quickly.

The portrait of how life was in Berlin at the time, and the impression of a man newly returned from war was exceptionally done in my view. I felt emotional reading it and believed every word the characters said. This is the only way most of us will ever get to experience that time and place and it's such a fascinating period of history even if violent and destructive. It's a broken man in a broken world – but I still liked Reinhardt as he's never lost his moral compass – he stands out for me and I really hope this isn't the last in the series!!

I love it when books are packed with detail and atmosphere but you don't realise it as you;re reading as you're so fully immersed in everything that's going on that it's when you sit back at the end that you realise what a ride it's been. Some gritty moments, horrible infighting,but a fascinating insight into Berlin, its people and politics.

One to read for sure.
Booktrail Boarding Pass: Ashes Of Berlin, (Gregor Reinhardt 3)
Author/Guide: Luke McCallin  Destination: Berlin Departure Time: 1945 plus
Back to Results