As Greek as it Gets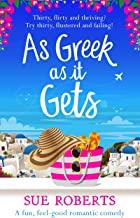 Why a Booktrail?
2000s: Let the hot Greek sun melt all your troubles away…
What you need to know before your trail
Alice Clark is delighted when her boyfriend Max proposes. From her dead-end job to her straight-up-dead houseplants, her life hasn't exactly turned out how she imagined, so she can't wait to start some wedding planning.
But the intimate affair she imagined soon grows wildly out of control, along with Alice's doubts. Just as things reach breaking point between the couple, Alice's best friend whisks her away for an escape to a sun-kissed Greek island.
Alice soon finds herself letting loose and relaxing into the Greek way of life. When she visits a gorgeous village nestled in the hilltops overlooking the sea, and meets a friendly local woman with a very special business – and a very handsome son – Alice is surprised by how drawn she feels to these people and this life.
As the sun sets on her Greek holiday, Alice knows she has some big decisions to make.
Travel Guide
Travel from Liverpool to Crete with some Greek romance
The novel starts…
The restaurant clung to a mountainside high in the hills of Crete, with a view of the sparkling Mediterranean below. Alice and Max sat beneath the shade of a vine-covered pergola and breathed in the stunning surroundings.
Crete
The taxi ride from the airport:
There are old grey houses with flowers spilling from pots on balconies and shops with walls plastered with fading posters. Old men in flat caps sit outside village bars,chatting an playing dominoes, continuing traditions from many years ago.
Hotel
Son enough, a stretch of beach flanked by hotels looms into view. I can't wait to be at our hotel and sipping a cocktail at the side of the pool or perhaps on a sandy beach.'
Liverpool
Before you head to Greece, there's a nice visit to Liverpool with the city's art museum and park nicely evoked.
BookTrail Boarding Pass: As Greek as it Gets
Destination/location: Liverpool, Crete Author/guide: Sue Roberts Departure Time: 2000s
Back to Results