Apples Never Fall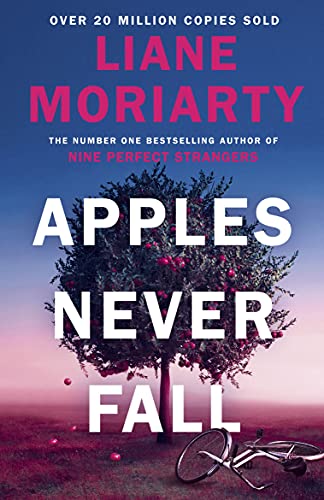 Why a Booktrail?
2000s: A wife goes missing from the family home
What you need to know before your trail
The Delaney family love one another dearly – it's just that sometimes they want to murder each other . .
Joy Delaney and husband Stan have done well. Four wonderful grown-up children. A family business to envy. The golden years of retirement ahead of them.
So when Joy Delaney vanishes – no note, no calls, her bike missing – it's natural that tongues will wag.
How did Stan scratch his face? And who was the stranger who entered and suddenly left their lives? What are they all hiding?
But for the Delaney children there is a much more terrifying question: did they ever know their parents at all?
Travel Guide
BookTrail Sydney's tennis scene with Liane Moriarty
The setting of this novel is the dysfunctional family at the heart of it. The sporty setting comes from the fact that the family have created a tennis academy. There's not much use of the tennis courts or the setting of Sydney in general as it's more of a backdrop to the story.
Sydney is where this author places all of her novels but the settings are secondary to the story of characters and strange family dynamics.
Booktrailer Review
The title of this book lets you now that there is going to be a family drama at its core. A bad apple never falls far from the tree, they say. Well, this family is full of rotten apples. It all seems nice and idyllic from the outside but is it? Well, this is a family drama by Liane Moriarty so what's your guess?

The parents of the family own a successful tennis academy. With four adult children all out in the world, they now want to retire. However ,what do you do when you've been so active and busy for so many years and your marriage of 50 years is so linked to the tennis that has kept them all bonded.

Then two strange thigs happen. The mum leaves the home and seemingly disappears. A woman comes to the house and claims to be a victim of domestic abuse so is invited to stay there. A temporary one becomes more permanent. To confuse the issue, the father seems to be taking this in his stride. I mean, his wife is missing and a strange woman is in the house. Then, you have to wonder just what those grown up children are like when you take a closer look at them.

If it's weird and awful family dynamics you're after, then you have come to the right place. I wanted to know what happened to the mum and who that strange women at the house was. However, if felt like a long time getting there. There was a lot of introspection about marriage and family of course but if you go around and around without changing direction,, you're just going to end up at the same place. The examination of a family in a spiral of destruction is car crash TV and compelling in many ways but there was just something missing that I can't put my finger on.
BookTrail Boarding Pass: Apples Never Fall
Destination/location: Sydney Author/guide: Liane Moriarty  Departure Time: 2000s
Back to Results